<![if !vml]>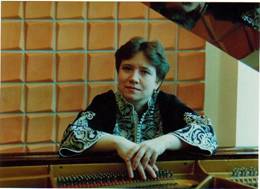 <![endif]>
Ludmila Knezkova-Hussey
Concert pianist and composer, Professor of Piano, choral conductor, chamber performer, clinician, conductor of piano Master classes and workshops, collaborative pianist, founder and developer of the Ludmila Knezkova-Hussey International Piano Competition.
 "Saturday evening's performance was so powerful and emotional that it actually moved some audience members to tears. That's not surprising. After all, this same music once had monarchs and czars reaching for their handkerchiefs. Even though there were no crowned heads in Saturday evening's audience, Ms Knezkova-Hussey gave a performance fit for a king".
Daily Gleaner, Canada
"What an extraordinary musician, with purely technical delights and a stunning master of color".
Moscow, Russia
"... rare sensitivity ... an authentic interpreter of the ideas of the great creators."
Madrid, Spain
Childhood and Education
Born into a family of talented musicians, artists and writers within her own geneology, Ludmila Knezkova-Hussey earned the attention of the musical world from a very young age. She grew up living and breathing music into her heart and soul, beginning her extensive musical education with violin studies when she was only three and performed at her first public recital still under the age of five. At seven she began taking piano lessons. Identified as a prodigious child she lead all her classes at the elite Lvov Central Music School, Ukraine, which she attended, completing eleven years of instruction in only nine years, continuing her studies in piano at the prestigious Music College of the Tchaikovsky Conservatory in Moscow, Russia. Then she enrolled at the famed Tchaikovsky Conservatory in Moscow (where so many world-famous Russian pianists and composers have studied). Among her professors was the famous Professor Jakov Zak, first prize winner of the  1937 Chopin International Piano Competition in Warsaw. Upon completion of her post-graduate education, her teacher Rudolph Kehrer noted that "during her studies Ludmila demonstrated herself as an exceptional pianist possessing phenomenal virtuosity. Her recitals are always rich in content, deeply thought out, and precise."
Continuing on from her Moscow education, Ludmila moved to the Czech Republic where she won first prizes at the Czechoslovakian National Piano Competition and the Smetana International Piano Competition. Throughout this period she augmented her post-graduate studies at the Academy of Music in Prague with the most noteworthy concert pianist and composer Professor Palenicek, who was one of Alfred Cortot's most brilliant students.
Ludmila's international musical travels earned her acclaimed recognition resulting in scholarships from the Czech Musical Foundation which allowed further post-graduate studies during 1986 and 1987 in France with Professor Bernard Ringeissen, in 1989 with Professor Detlef Kraus and in 1990 with Professor Rolf-Dieter Arens at the Hochschule für Musik Franz Liszt Weimar in Germany. Ludmila won at the 1989 international piano competition in Germany where she performed the fifth concerto by Beethoven with a symphony orchestra at the Concert of the Stars. In May 1992, she received a scholarship from Canada's Banff Centre School of Fine Arts to study with the noted Professor Gyorgy Sebok.. She was celebrated for her diverse musical presentations involving all the qualities of the various Piano Schools including brilliant technique, a warm-voiced tone with a broad repertoire, covering most of the popular classical solos and over 50 concertos for piano and orchestra plus а vast number of chamber works.
Performance Career and Concert tours
Besides her position as principal soloist of the West Bohemian Symphony Orchestra and the Karlovy Vary Symphony Orchestra in the Czech Republic for 13 years, Ms. Knezkova-Hussey's career as orchestral soloist and recitalist has taken her around the globe, to all of the continents.
Ludmila's celebrated performances took place in numerous countries such as: the United States, Canada, Germany, Italy, Russia, Latvia, Mexico, Turkey, Lithuania, Estonia, the Czech Republic, Bulgaria, Slovakia, France, Hungary, the Netherlands, Poland, the Ukraine, Switzerland, Spain, Romania, Australia, Austria, Armenia, Azerbaijan, Belorussia, Cuba, Kazakhstan, Kirghizia, Liechtenstein, Mustique, Slovenia, Tajikstan, Turkmenistan, Uzbekistan, Yugoslavia, Mexico,  Georgia and countless others. These performance tours have been presented at major concert halls, prestigious universities and for notable concert organizations worldwide.
In addition to many performances with chamber groups, Ludmila has appeared as guest artist with numerous distinguished symphony orchestras including L'Orchestre Symphonique de Montréal (Canada), L'Orchestre de la Garde Républicaine" from Paris (France), the Prague Symphony Orchestra, the Marienbad  Symphony Orchestra (Czech Republic), the Presidential Symphony Orchestra (Turkey), the WKO Symphony Orchestra from Vienna (Austria), the Knox-Galesburg Symphony Orchestra, the Johnson City Symphony Orchestra (USA), the Jenaer Philharmonie, the Deutsches Kammerorchester Frankfurt am Main (Germany), the Orchestra de Camera dell'Anglicum (Italy), the Budapest Chamber Orchestra (Hungary), the Latvian Radio and Television Symphony Orchestra (Latvia), the Symphony Orchestra of  the National Philharmonic of Moldova (Moldova), the Orquesta Nacional de Espana (Spain), the Polish Radio National Symphony Orchestra (Poland), the Bucharest Chamber Orchestra (Romania), the Moscow Symphony Orchestra (Russia ), the Slovak Philharmonic Orchestra (Slovak Republic), the Swedish National Orchestra (Sweden), the (Crimea) State Symphony orchestra, the Symphony Orchestra of Albania among many others.
Television Appearances
Ludmila's long artistic association with the media has facilitated reaching even wider audiences through such distinguished channels as the Czech Television Network, the Ukranian Television Network and "live recorded concerts" with the Presidential Symphony Orchestra in Ankara, Turkey, by the Turkish National Radio and Television Networks in addition to having been recorded in concert on two occasions in Mexico. Subsequent major Canadian and American media exposure resulted from her television debut performance of her own composition, the double concerto, entitled "Tabula Rasa" (Erase the Slate) with Vienna's WKO Symphony Orchestra, so popular that it warranted frequent rebroadcasts in syndication on multiple English and French networks nationwide. Her original symphonic work entitled 'St. Andrews Anthology" was recorded and telecast from the gala concert of the St. Andrews Summer Festival, Canada. Additionally she has had numerous television appearances in various parts of Canada, Russia, Moldavia, Slovakia, Poland, Bellorussia, Germany among others. 
Radio Appearances
Many of Ludmila's performances (including those of her original compositions) have been recorded and broadcast over the airwaves of numerous radio stations, including various major networks in Germany, Russia, Canada, the United States, Slovakia, Mexico, Turkey, Albania, the Ukraine, and a multitude of appearances on Czech National Radio. A wide range of multi-cultural and linguistic audiences have experienced her multiple talents.        
Professional Teaching Experience
In addition to her orchestral accomplishments, Ludmila is an experienced and respected teacher of music. She was a Professor at many European Universities serving on the faculties of the Plzen Conservatory of Music, the Music Academy in Karlovy Vary, the Teplice Conservatory of Music, the Prague Conservatory of Music, the Pedagogy Institute of Music in Karlovy Vary (Czech Republic), the Music College of the Tchaikovsky Conservatory in Moscow, Russia and at various other prestigious institutions. She continues to enjoy a very active career as a Music Professor for the St. Andrews School for the Performing Arts, Canada. Currently, she is a frequent guest pianist with world renowned symphony orchestras and presides as Artistic Director of the LKH International Piano Competition. A member of important national and international juries, she has lectured, adjudicated and conducted workshops and master-classes throughout the world. Her rare skills offer a direct link to giants of the past, since she herself was instructed by many notable professors who had even closer ties to the great masters of music and composition. Some of Ludmila's students have been winners at international piano competitions. Along with her life-long commitment to the refinement of pianism, she is considered as an innovator of piano pedagogy. Beyond her complete knowledge of the piano and all the instruments of the symphony orchestra, she has developed unique methods of teaching.
In Ludmila's own words, she expresses: "I believe in passing on to my students the work ethic of the great composers and artists of the past, which has become my motto, a lifelong dedication to excellence, through hard work, continuous growth, development and innovation. The best method of teaching is to lead by example. When I teach, I try to impart to my students my own philosophy of striving for the very best that I am capable of producing. I also believe that it is necessary for students of music to be thoroughly familiar with all styles and periods including as many culturally diverse forms of music as possible. My own education in music has enveloped me in the worlds of so many musicians and composers of all periods, countries and cultures. I must share these experiences with my students while fostering their own creativity, responsibility and a sense of purpose within, for without the latter two, the first would have no outlet. My ultimate goal is to instil musicians with excitement about the work they do and to do it to the best of their abilities."    
Among Ludmila's versatile interests are vocal accompaniment, directing choirs and pedagogical piano composition. She often composes original works in order for her students to work out their pianistical problems (similar to the famous composer Johann Sebastian Bach's collaboration with his students). Ludmila's interests of research in piano pedagogy include mainly the areas of curriculum design, method evaluation, creative teaching strategies, lesson planning, group piano teaching technique, and creation of the unique touch and sound.  She has collaborated with many vocalists and instrumentalists.
In 1993 Ludmila established the Ludmila Knezkova-Hussey International Piano Competition, which has attracted many gifted and talented pianists from all over the world. This competition takes place in New Brunswick, Canada and is adjudicated by internationally recognized judges. At each closing gala concert the finalists of the competition experience the rare opportunity of performing with a symphony orchestra, among them the world famous Montreal Symphony Orchestra (OSM), the WKO Symphony Orchestra from Vienna, Austria and "L'Orchestre de la Garde républicaine", from Paris, France.
Honours, Prizes, Awards and Special Recognition
Numerous prestigious accolades and awards have been bestowed upon her. Among them are an Honorary Doctorate from the University of New Brunswick, Canada and she has been selected by the prestigious Maclean's Newsmagazine for the issue entitled "The Brain Gain". This issue highlighted 50 people who chose to make Canada their home and who have contributed greatly to this country. Ludmila was included with such distinguished celebrities as Governor General Adrienne Clarkson and author Mordecai Richler (July 1, 2001; Vol. 114, No.27. Canada). Ludmila was granted the World Order Science-Education-Culture, Belgium. Among the past recipients of this award are Dr. Kofi Annan ( Former Secretary General of the United Nations) and Nobel prize winner Ilya Prigogine ( for chemistry). She also received  the Paul Harris Fellow Award, "The Rotary Foundation of Rotary International", the International Order of Merit, England and was named as one of the "2000 Outstanding Musicians of the 20th Century" from Cambridge, England;  She was created an Ambassador for Canada's Province of New Brunswick by Premier Shawn Graham and has been named to the Order of New  Brunswick, Canada.  Recipient of the Excellence Award for the Arts – specifically the André Thaddée Bourque/Louise Manny Award for Excellence in Music and the 2001 Excellence Award for the Arts – for Community Cultural Development, which are the Province of New Brunswick's most prestigious awards in the arts, Ludmila was also presented with Canada's Queen Elizabeth II Golden Jubilee Medal in addition to a unique medal from the local branch of the Ukrainian Rotary Club, acknowledging her contribution to youth, arts and culture. Countless other honours have also been accorded her and she has a long history of generosity through her benefit concerts and community involvement without personal gain. 
Ludmila's Original Compositions and Commissioned Works
Beyond her excellence as a virtuoso concert pianist, Ludmila has been compared to such illustrious composer-pianist predecessors as Liszt, Chopin and Rachmaninoff, carrying on the link to the great Masters of Classical Music through her works in the grand style of the great Romantic Composers and Musicians. Her compositions range in duration from lengthy works such as a grand opera-ballet of nearly 3 hours to an amazing 35 second miniature fugue. She has been commissioned by various orchestras and organizations for original works. Ludmila masters the most complex creations for full-sized symphony orchestra and mixed choirs, but she also delights children and adults alike with the most charming and funny shorter pieces. One of these is titled "Plip Plop Drip Drop" inspired by an annoying dripping water fixture at Ludmila's home. Beyond his vast serious repertoire, the late musical giant Glenn Gould also liked to diversify by composing and performing shorter, somewhat light-hearted works such as "So You Want To Write A Fugue?" and did possess the gift of "a talent to amuse", to borrow a phrase from the late Noel Coward. Mr. Gould also liked modern sound and film technology and was constantly experimenting with it, leaving behind a rich legacy of audio-video gems to broaden our understanding of his genius. Ludmila, like Gould, always injects considerable "learnedness" into her compositions. Her works have been created to celebrate ancient histories and civilizations, to express her personal quest for world peace and a greater awareness of the hunger and suffering of billions of people. She has composed romantic, mournful, meditative, scenic portraits reflecting the wide range of her emotions towards everything she sees, hears and feels. The volume of her work is continually increasing with the passage of time. Beyond that, she too has been fascinated with audio-video recording and is continually developing this interest. An avid reader of the great authors and a lover of the masterpieces of painting, sculpture and architecture, she also continues to write in the multiple languages she speaks and is a fine painter of considerable talent.
As an active composer and improviser, her masterworks included the 2004 Grand Opera-ballet "Traversees". Premiered as the first Opera documenting the Acadian history in the New World, with music composed and scored by Ludmila, and a Libretto written by Acadian writer/dramatist, New Brunswick's Lieutenant Governor Hérménegilde Chiasson, it featured "L'Orchestre de la Garde Républicaine", from Paris, France.
Reaching coast-to-coast television audiences, the 90-minute Dreamsmith Entertainment documentary "Flying on the Moon – The Ludmila Story" was a state-of-the-art presentation initially filmed and aired nationwide on the Canadian Broadcasting Corporation's "Opening Night" series on January 16, 2003. It was produced in collaboration and distribution with the CBC then its acclaimed reception warranted numerous rebroadcasts on Bravo, ARTV, Radio Canada and the CBC networks. It offered a sensitive portrait of the artistic life of Ludmila Knezkova-Hussey in her wide-ranged capacities as composer, concert-pianist, teacher and impresario. This film won the top award, the prestigious 'Chris Award', at the 52nd Columbus International Film and Video Festival, September 2004, in the category of "Performing Arts"(USA).
Ludmila's Collaboration with Composers                                                                              
She has worked with many notable composers of the 20th Century. Among them are:
Jan Hanus (1915-2004) *                                 Jozef Palenicek (1914-2001) *                                     Lubos Fiser( 1935-1999) *
Petr Eben (1929) *                                           Ilja Hurnik (1922) *                                                      Jiri Pauer(1919) *
Milan Slavicky(1947) *                                    Karel Pexidr *                                                              Victor Kalabis (1923-2006) *
Jan Radzynski (1950), Poland      
Edison Denisov, Vasilij Lobanov (1949) Russia.            David Finko(1936), USA
Richard Gibson and many others in Canada
* from the Czech Republic
PROFESSIONAL AND ACADEMIC AFFILIATIONS 
<![if !supportLists]>§ <![endif]>American Federation of Musicians Active Member                                    
<![if !supportLists]>§ <![endif]>AFM (American Federation of Musicians for the United States and Canada)
<![if !supportLists]>§ <![endif]>Association of Canadian Women Composers Active Member
<![if !supportLists]>§ <![endif]>Czech Musicians Associations Active Member                                            
<![if !supportLists]>§ <![endif]>New Brunswick Musicians Associations Active Member                             
<![if !supportLists]>§ <![endif]>New Brunswick Teachers Association Active Member                                
<![if !supportLists]>§ <![endif]>SOCAN (Society of Music Creators & Publishers)  Active Member           
<![if !supportLists]>§ <![endif]>New Brunswick Arts Board, Past Vice President                                                 
<![if !supportLists]>§ <![endif]>Opera New Brunswick  Advisory Council                                                       
<![if !supportLists]>§ <![endif]>New Brunswick Foundation for The Arts (NBFA) Honorary Committee                                                                                    
<![if !supportLists]>§ <![endif]>Juno Awards Association                                                                              
<![if !supportLists]>§ <![endif]>East Cost Music Award Member                                                         
<![if !supportLists]>§ <![endif]>London Diplomatic Academy, England, Academic Council                         
<![if !supportLists]>§ <![endif]>Association acadienne des artistes professionuel du Nouveau-Brunswick                                                                                                                    
<![if !supportLists]>§ <![endif]>Glinka Society, Russia
<![if !supportLists]>§ <![endif]>Dvorak Society, Czech Republic    
"Ludmila is a dazzling pianist with rare gifts that often bring audiences to a state of exhilaration. Her gregarious personality and great sense of humour cross over the threshold proscenium of the stage and leap into the audience. On less formal occasions, her concerts will include delightful chatting about her life experiences and she connects with her audience on an intimate level that makes her music a personal and enchanting experience for everyone. The result is pure magic!!! Standing ovations, the clapping of thousands of sore hands and roaring shouts of "Bravo!!!" conclude every performance. She modestly expresses her appreciation and leaves the concert hall." – Robert White, Canada.