COMMENTS
<![if !vml]>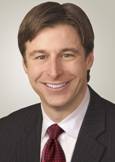 <![endif]>We tell the stories of our past in order to better understand where we are headed in the future.
In June 2004, two of New Brunswick's cultural icons - Ludmila Knezkova-Hussey and His Honour Hermenegilde Chiasson came together to create the opera-ballet "Traversees", a vivid tale celebrating the 400th anniversary of the French presence in North America and the founding of l'Acadie.
 My wife Roxanne and I had the opportunity to attend the once-in-a lifetime world premiere as New Brunswick talent teamed up with an orchestra from France to tell a uniquely New Brunswick story that at the same time celebrates the universal determination and resilience of the human spirit.
 Like all who shared in this extraordinary experience, we were moved by the story, the music and the talent on display. It was a testament to the great talent here in New Brunswick and a perfect way to commemorate an important anniversary.
 The great Maria Callas once said that an opera stayed a part of her life long after she left the opera house. For all who attended that world premiere in June 2004, I am certain the memory of  "Traversees" will stay with us for a very long time.
 Thank you for creating this beautiful and important work. And thank you for allowing us to share in it.
 Hon. Shawn Graham
Premier of the Province of New Brunswick
As I stood to leave the K. C. Irving Centre last Sunday, I was struck by the fact that I had just witnessed something historic. Ludmila Knezkova-Hussey's opera-ballet, 'Traversées', which tells the story of the founding and expulsion of the Acadian people in North America is a vast and significant work. The sweeping orchestral score, performed by L'Orchestre de la Garde Républicaine, gives a heroic stature to these events and the libretto by Herménégilde Chiasson provides some genuinely emotional dreams.
Canada will not attain its full stature as a nation until we can tell our own stories in all the great art forms. The history of the Acadian nation is one of these stories and 'Traversées' is a step towards this fulfilment. It deserves many performances of a fully mounted production in the near future.
Larry Bent - A drama coach from Nova Scotia, Canada
<![if !vml]>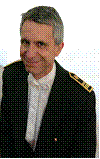 <![endif]>This afternoon will remain engraved in my memory for a very long time, to have lived and shared in numerous emotions and also a victory in that it enabled one to solve difficulties and transfer them into moments of joy and happiness.
   François Boulanger
  Chef d'orchestre / Conductor, Garde républicaine, Paris, France.
I attended the premiere of the Opera, Traversées, in Bathurst, with three of my friends, one of whom was Acadian. I had been somewhat involved with the early stage development of the Opera and was very curious and interested to see how it would be presented. I have attended many operas over time, and the excitement and expectation of the audience as we awaited the opening act was just as electrifying as at any other opera that I've seen.
 We were all prepared for something special, but even I, who had some idea of the outline of the Opera, was overwhelmed. I had heard some of the music on piano, but I was unprepared for the beauty of the melodic lines and the wonderful orchestration. The staging was most impressive, as the actors appeared to be landing on the shore and rising up towards the audience. It was a spectacular and very moving scene. As a mass, we were transported to a time and place and shared the challenges and the sorrows of the Acadians through the beauty and emotion of the music. The singing, in particular that of L'Ange, was glorious and so very emotionally touching.
 Throughout the Opera, the audience was mesmerized, and at the conclusion, they rose as one, and as I looked around me with tears in my eyes, I witnessed the open tears of so many of the men and women, including those of my Acadian friend. I felt that they had truly had their story told in a most phenomenal way. It was an event that I will always remember.
Wendy Beardall
President of the Fredericton Music Teachers' Association.
<![if !vml]>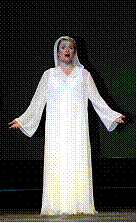 <![endif]>Singing in the role of an angel in the Opera "Traversées", composed by Ludmila Knezkova-Hussey, was a memorable moment in my life as I am Acadian. Obviously, as I was not alive during the era of deportation, participating in the creation of this Opera allowed me to virtually return in time to experience what my ancestors lived.
It is my feeling that the angel's role represented Evangéline. While singing the angel's lyrics, a magical atmosphere passed over the stage encompassing all the performers. It was a surreal phenomenon, one far beyond the conception of a human artist that I was.
I believe that at that very moment, Ludmila illuminated the angel's role, giving them power and motivation thereby strengthening the faith of the Acadian people.
I have very good memories of the Opera. I hope it will be performed throughout the world, because our story deserves to be told.
 Chantal Dionne (Angel ) soprano
"Traversées" means "crossings". The word was most appropriately chosen as the title of the opera-ballet composed by Ludmila Knezkova-Hussey of which His Excellency Herménégilde Chiasson, Lieutenant-Governor of New Brunswick - and significantly also, Acadian artist and poet – wrote the story and lyrics.
In 1604, French explorer Sieur Pierre Dugua and his crew of sailors, after crossing the Atlantic, landed on the southern shore of what now forms part of New Brunswick. What the future held for this group of settlers was then unknown.
In 1991, when Ludmila Knezkova-Hussey crossed the Atlantic to then establish herself on the northern shore of this same province, the future, also, must have been somewhat unknown.
For all, it was a new and different world. From all, we have received a precious legacy.
From that tiny island in the Sainte Croix River at the southern coast line of Brunswick came, progressively but surely, the impetus which created a society whose evolution and cultural values have been in constant growth. It speaks astonishingly highly of Ms. Knezkova-Hussey's discernment and receptiveness that she so spontaneously embraced these values to the extent of being moved to express them in such grandiose fashion as through the composition of an opera-ballet. That highlights very eloquently the compassion of this renowned composer-pianist.
But more was in store for those who witnessed the premiere of "Traversées" on June 27, 2004. Who best to marshal the words to give shape and form to everything that should be encompassed in an artistic rendition of the inspiring history of the Acadian people than one so steeped in both the art of poetry and the sheer poetry of that history as Herménégilde Chiasson? Inclusiveness and correct historical assessment dictated that the contribution of First Nations people not be overlooked. That dimension, also, was appropriately made to appear.
" For having passed on to the people of New Brunswick such an inspiring artistic legacy, Ms. Knezkova-Hussey and Your Honour Herménégilde Chiasson, you are deserving of our profound admiration and appreciation."
Frédéric Arsenault - Canada
<![if !vml]>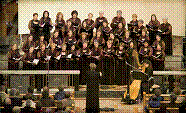 <![endif]>It was a wonderful challenge for the Choeur Beauséjour to sing and to play in the Opera, 'Traversées'. On this occasion, the men's voices blended with those of the Choeur Beauséjour, allowing one to explore the new levels of sound. The choir not only had the pleasure of singing, but they were able to put themselves in the place of the people who had lived through the drama from the time of the arrival of the first settlers until the deportation. The different moods, emanating from the text and music, were intensified by the actors and the movement on stage. This artistic combination necessitated another level of engagement on the part of the choir. Because they were accompanied by a professional orchestra of high calibre, the choir excelled in their performance and they enjoyed an enriched and unique experience. The theme of 'Traversées' was emotionally touching for those who were close to the choir, and they felt as if they were a living part of this unique musical work. « Thank You, Ludmila » to have dreamed of and created a musical project of this magnitude and allowing us to live such an adventure.
 Monique Richard - Chorale Beauséjour
Directrice / Conductor
One of Ludmila's most profound skills is the art of sharing emotions.
If I would have to put the name of Ludmila Knezkova-Hussey in the dictionary of Famous People, my definition would be:
Virtuoso, Composer, Pianist, High Level of Generosity, Great sense of humour.
" Ludmila , you are an inspiration for all generations. ''
Ghyslaine Bernier
Music Manager, Montreal, PQ
<![if !vml]>

<![endif]> "I have had the opportunity to listen to Ludmila Knezkova-Hussey in concert, on her CDs, on her CBC Documentary, 'Flying on the Moon', and also on her own piano while she was composing the Acadian opera- ballet, 'Traverseés'. From the place of my creative spirit I recognize the creative genius of Ludmila and the importance of her musical gift. She is an artistic and intellectual inspiration, striving continually towards excellence and pushing the limits with a drive and passion seldom seen."
             Vicky Lentz
     Past President, New Brunswick Arts Board (visual artist)
The Opera, "Traversées" was, in my opinion, an exceptional event because it was the first time an opera-ballet with Acadia as a subject was sung by young Acadians. Songs about Acadia have been sung for more than 400 years but the opera has become the expression of choice for Acadians. I hope that Ms. Knezkova-Hussey has been able to inspire other composers, who in turn, will encourage young opera singers to use their nice voices, as well as helping them to find an important role in this art form.
 Lisa Roy
Art Director/Opera Section/- Université de Moncton
The word 'congratulations' doesn't begin to express how much your opera, 'Traversées', has touched the hearts of so many people. It was FANTASTIC!
Comments from the audience were most favourable and complimentary. The Mayor and his wife, couples from Halifax, Prince Edward Island, Saint John, and people I know praised you. So much hard work was greatly appreciated. Rachel and I had a hard time not to cry out loud, we were so moved. Keep up the good work and may God bless.
Marie Taylor
Saint John, N.B.
<![if !vml]>

<![endif]>The Opera 'Traversées' was a musical rendezvous wherein I was able to unite my love for singing to the joy of discovering a significant period of my Acadian culture. Interpreting the role of Hélène taught me how to be more flexible in blending in both vocal and theatrical performances. Hoping to be faithful to the music and the libretto, I wanted to express Hélène's fears and discouragement while still revealing all her freshness and hopefulness. Mrs. Knezkova-Hussey demonstrated great generosity in the realization of this project. Her passion and determination to make this event an important cultural rendezvous have to be emphasized and encouraged. Sincere thanks also to the production team, the other soloists, the choristers and to all those Acadian volunteers. Once again, we witnessed how Acadians today, as in the past, are a people of passion and of willpower, a living proof that the last page of its history did not end in 1755. There is a modern Acadie in full flight. Why couldn't we envision a sequel to this Opera which would illustrate and resonate in Acadia today?
 Mélanie Roy (Hélène) soprano
<![if !vml]>
<![endif]>Dear Ludmila:
 Congratulations on your wonderful concert "The Acadian Opera" of June 27, 2004.
 Words alone cannot express the feelings I experienced at this event. It was fantastic and very emotionally moving. So many people who attended expressed much the same sentiments to me after the Opera.
 I realize you had many challenges and worked so very hard to make the Opera happen -Thank you!
 Good luck with your future endeavours. We are proud to have you living in Bathurst, especially with the talents you share with our community.
 Sincerely,
 Stephen Brunet
Mayor- City of Bathurst, N.B.
Participation in the gala premiere of Ludmila Knezkova Hussey's opera-ballet "Traversées" was for me a unique and deeply moving experience. Through this splendid music, accompanied by the orchestra of the French Republican Guard, I could feel that I was reliving the experience of our Acadian ancestors. As a member of the <![if !vml]>

<![endif]>Beausejour choir, and as a soloist in the role of a young child, I experienced, through the medium of song, the vicissitudes, the sufferings and the drama of our Acadian people.
The grandeur of this work and the power of the emotions which it expressed made the performance a truly memorable event.
Participation in Opera - Notes by Christine Richard
When describing her feelings regarding her participation in "Traversées", Ms LeBlanc states that "this experience has made me even more proud to be an Acadian than I ever thought possible. It stirred emotions in me from deep regret and sadness to happiness and exaltation. Thank you, Ludmila, for bringing our beautiful and tragic story to life."
Renelle LeBlanc
Moncton N.B. Canada
Dear Dr. Knezkova-Hussey,
"Flying on the Moon" was magnificent last evening on the Bravo! TV channel. Many thanks! Congratulations to you, Dr. Knezkova-Hussey, and all the people participating in your outstanding movie "Flying on the Moon".
Your life story is an outstanding one and you were so kind to share it on Bravo! with so many of your experiences and elegant performances. As well, Dr. Knezkova-Hussey, you put the beautiful City of Bathurst, N.B., Canada, on the world map.
I attended the opera-ballet of "Traversées" (June 27, 2004) and want to congratulate you for the magnificent opera-ballet. I attended many operas and ballets in Europe (while teaching military children in Baden, Germany (1965-67 and 1985-90). I greatly appreciated "Traversées" and have wanted to say a world of thanks.
Dolores Dinan- Miramichi , Canada.
On June 27, 2004, at the K. C. Irving Centre, in Bathurst, New Brunswick, as part of the celebrations for the 400th anniversary of the arrival of the Acadian people in New Brunswick, we had the privilege to be presented with a spectacle of magnificant proportions.....a first in our history. We were witnesses to an event of a historical time that was cultural, theatrical, poetic and musical.
<![if !vml]>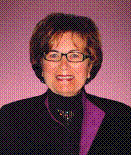 <![endif]>
To begin with, this gala concert came as a spectacular finale to the 7th Ludmila Knezkova-Hussey International Piano Competition. The premiere of TRAVERSEES – an original opera-ballet and a creation of our renowned international artist, Ludmila Knezkova-Hussey, was unquestionably the climax of this classic concert. This Acadian opera, with the libretto composed by poet, Herménégilde Chiasson, was undeniably a moving work of the Acadian epic.
This theatrical presentation, interpreted by the 65 musicians of the l'Orchestre de la garde républicaine de Paris, appealed to the great artistic talents of young Acadians. The Chorale Beauséjour de Moncton, the renowned Acadien soloists, the actors, as well as the participation of the dancers of DansAcadie, delivered an altogether gripping drama. The remarkable scenery, with visuals and individuals who revolve around the stage, have allowed us to relive the misfortunes of the Acadian people, from their first settlement on Saint Croix Island until their deportation.
This high-calibre performance is a must see! Our congratulations and recognition go out to Ludmila Knezkova-Hussey for the precious heritage that she has bequeathed to us. Since June 27, 2004, we, the Acadians, are able to say, with deep sincerity that from now on, we possess our very own opera, including our own patron, our flag and our national anthem, which identify us. Bathurst, in New Brunswick, has become in a like manner, the birthplace of the first Acadian opera.
Bravo to this musical creation and long live this opera dedicated to the Acadian odyssey.
Annette Thérèse Chiasson
Un opéra acadien passe à l'histoire
 '' What a wonderful event! It truly was a treat to experience a New Brunswick Acadian opera on home soil. The opening scene was breath-taking and Dr. Ludmila Knezkova Hussey's musical composition captured the Honourable Herménégilde Chiasson's text very well. The vocal, choral and orchestral settings are rich and melodic."
  Father Stanislas Paulin
 Well-known New Brunswick choir director and vocal and choir adjudicator.
Elizabeth and I received a phone call asking us if we would do a part in an opera-ballet. This part was to be a Mi'kmaq woman telling the settlers what medicines to use to battle the sicknesses they brought with them. So I said 'yes' and then explained to Elizabeth: "What an honour this was for us to have this opportunity." I know it took great courage for her to do this. You see I got her to translate what I said into French. <![if !vml]>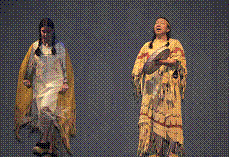 <![endif]>She said the four directions in French as I said them. As Mi'kmaq we stood on the stage doing our part, my whole being was trembling with an essence of pure love. Everything in my life guided me to this moment. I realize how much I am loved by my Creator to have my breath of life every second and to be part of this play. I looked around and saw everyone else preparing to do their part with their whole heart and soul. It was then that I understood how we need each other and how important it is to love one another as He Loves us.
It is to forgive each other as He has forgiven us over and over again. I say "thank you" for believing in this beauty as you have and enduring the struggle to achieve it. I am honoured to have been a part of your dream. May the Grace of the Creator always be with you.
Ann la Billois
After 400 hundred years of struggle to safeguard our heritage as Acadians, we have made our place in the world as a proud and independent people. As Edith Butler says "we are here to stay." History books have been written and rewritten to accurately reflect the true reality of our saga. As a people we have much to offer to the rest of the world and much to learn from each other.
To have Dr. Ludmila Knezkova-Hussey, a world renowned musician, compose an opera-ballet dedicated to our 400-year struggle is a tribute to both our history and our future. The opera "Traversées" will be a lasting legacy to the Acadian people and musicians the world over.
Marcelle Mersereau- Bathurst, N.B.
Participation in the gala premiere of Ludmila Knezkova Hussey's opera-ballet "Traversées" was for me a unique and deeply moving experience. <![if !vml]>

<![endif]>Through this splendid music, accompanied by the orchestra of the French Republican Guard, I could feel that I was reliving the experience of our Acadian ancestors. As a member of the Beausejour choir, and as a soloist in the role of a young child, I experienced, through the medium of song, the vicissitudes, the sufferings and the drama of our Acadian people.
The grandeur of this work and the power of the emotions which it expressed made the performance a truly memorable event.
                                 Participation in Opera - Notes by Christine Richard
"Once again, Ludmila Knezkova-Hussey has given the people of the Acadie/Chaleur region a timeless gift. The Opera "Traversées" was an amazing tribute to not only the history and culture of our region, but to our people, who for generations have built this area to what it is today. The production was an amazing collaboration of her profound musical talents and the lyrical genius of Herménégilde Chiasson. Together, they have created an historical legacy for all residents of the Chaleur Region. Production of the Opera was masterful, colorful, technologically advanced and served to successfully bridge any language barrier in order to heighten the enjoyment of all patrons. Congratulations on the creation of a legacy and "Thank You" from the people of the Chaleur Region."
Glenn Trueman Directeur,
CIBC Charlottetown, Île-du-Prince-Édouard
<![if !vml]>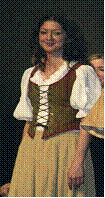 <![endif]>
I was really impressed by the comments we received afterwards. I was proud of being part of something that touched people. I remember my parents' comments about when the characters and the choir first stepped onto the stage in front of the big screen. They said it was breathtaking.
 Sophie Chiasson