<![if !vml]>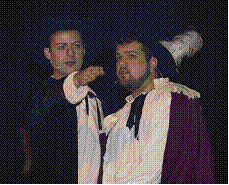 <![endif]>
TRAVERSÉES: An Opera-Ballet
<![if !vml]>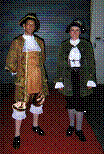 <![endif]>
The Grand Opera-Ballet " Traversées" is a welcome return to the Golden Era of opulence and creative style in music and dance. In commemoration of the 400th anniversary of Acadian presence in North America, it presents, in various stages and settings, the many chapters of this long and amazing history, threaded together through the aural presence of an  Angel, who guides the audience along musical pathways. Beautiful staging, lavish costumes, a splendid cast of soloists and choirs were accompanied by L'Orchestre de la garde républicaine, Paris, France, brilliantly bringing to life the Opera's exquisite music score composed by world-renowned composer-pianist Ludmila Knezkova-Hussey, with a libretto by Award winning Acadian writer/dramatist, New Brunswick's Lieutenant Governor, Herménégilde Chiasson.
.
<![if !vml]>

<![endif]>
Moving through 4 centuries, Traversées relives the history of New Brunswick's Acadian peoples, highlighting their tragedies and triumphs since the first mapping of the coastline by Samuel de Champlain on the 1604 voyage. For 3 hours, the audience is totally transported back into history, from the time of the first Acadians arrival to Ste. Croix  Island, then during their tragic dispersal (1755), to the eventual triumphant rebirth of Acadian culture. Traversées marries a classical vocal and symphonic score with interpretive, classical ballet, and the <![if !vml]>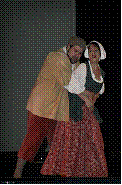 <![endif]>narrative is sung by a 50 voice chorus. Although this original opera ballet is performed primarily in French it also includes aboriginal languages, Latin and English, with subtitles provided throughout the presentation. The beautiful stage setting is enhanced by a large video backdrop that depicts supporting scenic pictures of the surrounding countryside.
<![if !vml]>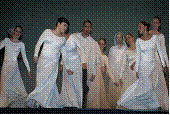 <![endif]>
"Traversees" is  the first Opera documenting the Acadian history in the New World.
<![if !vml]>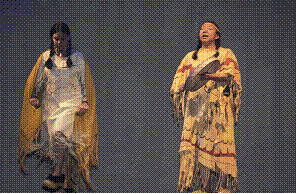 <![endif]>